Sermon preached by Rev'd Dr Emma Pennington at St Mary's Garsington and St Giles' Horspath on Sunday 13th August 2017
Reading: Matthew 14:22-33
Words I often find myself saying to our dog, Flossie. As many of you know she was rescued from a pound in Ireland. We have no knowledge of her life before she came to us but the rather traumatised state she was in when we brought her home, suggested that her experience had not been a happy one. It took us weeks to gradually gain her trust but even now it takes very little for her to doubt us.
Just in the last week we have seen once again how wounded she is and how quickly her life is couched in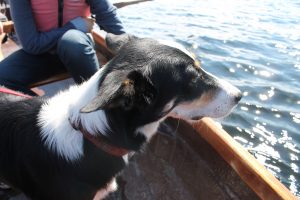 fear. We were staying in the southern point of the Lake District at the pretty little village of Hawkshead. Having had a couple of glorious days walking we decided to go to lake Coniston and see the fells from the water. It was beautiful and calm, just a gentle breeze rippled the water's surface. We were having a glorious time in our rowing boat but not Flossie. Even as we approached the boat along the jetty she was shaking with fear. Her feet splayed out, her bottom high in the air and her nose to the ground as she tried not to step on any of the cracks.  There was no wagging tail now and for the whole hour she stood with it hanging between her legs, transfixed by the dark surging mass of water all around her. Gradually, after a great deal of coaxing, she looked around her and sniffed the air but, as soon as we landed, she was first out the boat, glad to back on dry land.
We have a theory that Flossie cannot swim. No amount of coaxing will tempt her to tip her toe into even the shallowest of pools but yet she trusted us enough to lead her onto a boat that took her into the middle of Coniston water. It may not have been the high point of her holiday but she learnt once again that she could trust us and when we then went in a motor boat she curled up in the bottom content to be where we were.
It seems to me that Flossie reflects back some of our own fears and wounds. None of us live our lives without some bruising. Some wounds heal quickly and are only skin deep but others gouge out emotional and physical scars in our psyche that  easily create prison bars of fear. My operation this February revealed to me just how hemmed in my own life had become by the fear of physical pain. The fear to speak, fear to eat, fear to clean my teeth, fear to even let a breath of wind on my cheek for any of these could release a spasm of excruciating pain. We try to manage or even alleviate such physical pain but it is harder to cope with the mental fears. The kind of fear that I see reflected in Flossie. Sometimes we don't even know that it is there, we are not aware that it is our fears which make us lash out at others, hang back from being too committed, push others away and many other defensive strategies that erupt from fear.
'Take heart, it is I; do not be afraid.' Says Jesus to Peter, as he walks across the water towards him. For a moment Peter puts aside all his experience as a fisherman on the turbulent Sea of Galilee. He would have known all too well what a terrifying experience it was to be caught out in a simple row boat when the wind was dashing down from the hills of Judea to whip up the water of that inland lake. Yet, for all that for a moment he does not let his fears take charge, his eyes are fixed on Jesus and he trusts him. Trusts him enough to do something that probably seemed madness to all else there and even unimaginable, yet Peter hears Jesus' voice and he does what he commands. He steps out of the boat onto the waves trusting in Jesus whole heartedly. For a brief moment Peter in free and walks by faith alone. It is brief however as his fears soon overpower him once again, so turning his eyes away from Christ. Overcome by doubt he begins to sink. And must be saved from himself as much as the elements he perceives as a threat.
I wonder, where are you in this story? Who do you relate to most at this time? Are you like Peter ready to step out in trust but held back by your own fears?  Are you like the other disciples terrified at this ghostly apparition coming towards you or are you with the crowds safely on land inquisitive about this person Jesus but too busy going about their daily life to let him make any impact? Or are you with Flossie and trust just enough to curl up in the bottom of the boat.
Wherever you may be in this story Jesus's words are also for you however uncomfortable and challenging they may seem. 'Take heart it is I; do not be afraid' and 'come follow me.' Jesus invites us to step out of our boats of fear both physically and mentally and walk in trust and faith and in him alone. He invites us to be free to look only at him and place our lives in his hands knowing that he loves us and will not let any real harm come to us. He invites us to a life without fear but one of faith. Yet Jesus also knows that we like Flossie are wounded, he has compassion on us and the prisons we create so will always walk at our speed waiting for us to have trust enough to let him lead us a little more into his life of faith and love.
Amen