Lent Resource Pack
Activities for Lent – Outdoor Church
Prayer Guides for Every Day
Psalm 23 & The Lord's Prayer  Please join Christians around the world in saying The Lord's Prayer daily at 11am.  
_____________
Communion Services
All-Age Eucharist  An order of service for use via Zoom or Facebook
_____________
May 2020 Activities
VE Day Word Search  A Word Search for VE Day 2020 created by John Underdown. Enjoy!
___________
Oasis Reflective Prayer 
You can participate in this session every Wednesday evening at 7.30pm via Zoom. Please contact us for an access code.
Oasis – a Sacred Space for Spirituality and Stillness
Oasis Session One – additional material for website.docx
Oasis Session Two – additional material – for website.docx
Oasis Session Three – additional material – for website.docx
Oasis Session Three – video https://www.facebook.com/BeneficeGCH/videos/570830716863965/
Oasis Session 4 – Additional Material
Oasis Session 4 – video https://www.facebook.com/BeneficeGCH/videos/655188298382799/
Oasis Session 5 – The Ballad of the Judas Tree
___________
Resources for Children and Families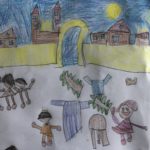 How to make a paper cross: http://make-origami.com/easter-cross/?fbclid=IwAR0h6GPP6Xt09JCJKzQSdW7NkzKXKpCt1FsgkcAHiQeapENUBLwtBD3w0Ds
Garsington Primary School Assemblies
The Story of Joseph with Erica Wilding
The Story of Neeman with Erica Wilding
The Wisdom of Solomon with Erica Wilding
Wisdom and Understanding – The Road to Emmaus with Revd Karen Charman
Independence with Revd Karen Charman
Horspath Primary School Assemblies
The Road to Emmaus with Revd Karen Charman
Respect with Revd Karen Charman