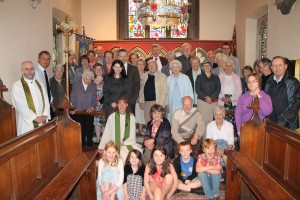 We look forward to welcoming you at one of our Sunday or Wednesday services soon. A schedule of forthcoming services can be found opposite.
Please refer to our private prayer opening times for a current schedule.
If you would like to discuss a baptism, or arrange a wedding, funeral or an interment of ashes, please contact the Benefice Administrator.
Covid-19 Safety Measures
Face coverings must be worn when visiting our churches for services or private prayer unless you are medically exempt. We kindly ask that you apply hand sanitiser on arrival and observe social distancing whenever possible. Communion is currently offered in both kinds by intinction (dipping of bread in wine). Congregational singing is permitted but a mask must be worn at all times.
Safeguarding
St Mary's, All Saints' and St Giles' are committed to the protection, safeguarding and care of all children, young people and adults who visit our churches. We aim to create safe environments for everyone who chooses to visit, worship or enjoy activities and events at our churches. Our safeguarding policies and contact details for our designated safeguarding officer can be found here.