There has been a theological college at Cuddesdon for over 160 years. Cuddesdon College was established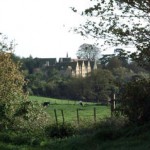 in 1854 by Bishop Samuel Wilberforce, whose vision was for a college independent of any specific Church faction, and with a focus on the discipline of daily prayer and spiritual formation.
A merger with Ripon Hall in the 1970s, forming Ripon College Cuddesdon, brought in new resources and fresh thinking, and helped develop a new and open approach to theological study. The incorporation of the Oxford Ministry Course (2006) and the West of England Ministerial Training Course (2011) has enabled the College to offer a wide range of additional non-residential courses, designed to suit students at different stages of life and with varying personal circumstances and academic abilities.  Our non-residential training is outstanding, and the programmes that are now part of the Cuddesdon community have been well established for over forty years.  Through out partnership with the Church Missionary Society, we are also able to offer training for Ordained Pioneer Ministers. In addition to the non-residential and residential training for ministry, the Cuddesdon School of Theology and Ministry (CSTM) offers courses for those exploring vocations, or simply wanting to learn more about theology for today's world.  The Cuddesdon Study Centre offers a range of specialist seminars, courses, research and consultancy (through our renowned Oxford Centre for Ecclesiology and Practical Theology ), as well as studentships and sabbaticals.
Principal of Ripon College Cuddesdon
Rt Rev'd Humphrey Southern
Having read history at Christ Church Oxford, and spent a year in The Sudan shadowing a local Archdeacon, Humphrey came to Ripon College Cuddesdon for three years ordination training in 1983. He then served curacies in commuter suburban Rainham in Kent, and in inner-city Liverpool, at St. Mary's, Walton. His first incumbency was at Hale in the Guildford Diocese, followed in 1999 by becoming Team Rector at Tisbury which, by the time Humphrey left the post after eight years, served sixteen villages. In this appointment he also served as Rural Dean and as Chair of the diocesan House of Clergy, as well as supervising a number of curates and sharing in the delivery of diocesan IME 4-7.
Humphrey was appointed Bishop of Repton in the diocese of Derby in May 2007. His particular responsibilities in this role focused on areas of ministry: overseeing vocations, sponsoring people for ordination training, and appointments. He chaired the Mission and Pastoral Committee which is responsible for 'shaping' the Church locally to fulfil its mission to proclaim the Good News and build the Kingdom. He enjoyed close involvement with schools, both Church and County, and chaired for two years the Diocesan Board of Education; and he particularly relished travelling around the diocese worshipping in all manner of different churches and styles, and seeking to encourage and care for clergy and laypeople.
Bishop Humphrey was appointed Principal of Ripon College Cuddesdon in April 2015 and draws on his experience as a parish priest and leader at a diocesan level to teach Pastoral Theology to residential and non-residential Oxford Ministry Course students. He contributes to the West of England Ministerial Training Course (WEMTC) and other programmes in the area of Anglican ecclesiology, and shares responsibility for leading the Monmouth programme. As Principal he liaises closely with sponsoring bishops and DDOs and takes a lead role in supporting students in their final year in establishing themselves in curacies.
Bishop Humphrey is married to Emma, a district nurse, and has two daughters, Laura and Kate. His interests include being an avid reader and following horse racing
College House
Ripon College Cuddesdon
01865 874404
The Cuddesdon Sisters
The Community of St John Baptist was founded in England in 1852 by Thomas Thellusson Carter, the priest at St Andrew's Clewer, Windsor, and Harriet Monsell (the first superior). The purpose of the order was to help marginalised, mainly young women, who found themselves homeless and drawn into the sex trade, by providing them shelter and teaching them a trade. The work of the sisters expanded to include administering and working in orphanages, schools, convalescent hospitals, soup kitchens, and women's hostels.
In 1901 there were 300 sisters and, at its height, the community had some 45 branch houses throughout the South of England.
The community's Mother House remained at their purpose-built Victorian convent in Hatch Lane, Windsor. Following a sharp decrease in membership, the community found itself using only a tiny part of the buildings and, in 2001 relocated to Oxfordshire. The original convent has since been converted into residential accommodation with a minimum of changes to the original architectural features
The Sisters lived at Begbroke, near Woodstock in Oxfordshire for several years, then moved to the newly constructed Harriet Monsell House, on the campus of Ripon College Cuddesdon in 2012. There they have the two top floors as their convent. They also endowed the Bishop Edward King Chapel for the College, which will be part of the Community's lasting legacy to the Church after it has completed its work. The Chapel has won several architectural awards since its completion.
Since 1996 the remaining sisters of another Order, the Community of the Companions of Jesus the Good Shepherd have been living with the CSJB sisters, and although the two Orders remain quite distinct, they share accommodation and many other aspects of community life.  In 2018 Sr Jane Olive and Sr Anne Verena 'retired' to a nursing home in Chiswick.
Present time:
We are now a community of women who seek to offer our gifts to God in various ways. These include parish and retreat work, spiritual direction and ministry to the elderly. Two sisters are ordained to the priesthood and preside regularly at the Community and College Eucharists. One is part of the College Chaplaincy Team and the other assists in local benefices. Sisters are also available to facilitate quiet days,
We have close links with the sisters of our affiliated community at Mendham, New Jersey, USA (www.csjb.org) and we also have links with justice and peace activities.
Daily life centres on the Eucharist and the Divine Office and we live under the threefold vows of poverty, chastity and obedience. Following the rule of St Augustine we are encouraged to grow into 'an ever-deepening commitment of love for God and for each other as we strive to show forth the attractiveness of Christ to the world'.
Community of St John the Baptist
Harriet Monsell House
Ripon College Cuddesdon
Cuddesdon
01865 877100
rcc.ac.uk/about-us/the-cuddesdon-sisters