There has been a theological college at Cuddesdon for over 160 years. Cuddesdon College was established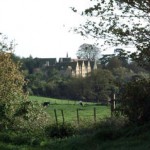 in 1854 by Bishop Samuel Wilberforce, whose vision was for a college independent of any specific Church faction, and with a focus on the discipline of daily prayer and spiritual formation.
A merger with Ripon Hall in the 1970s, forming Ripon College Cuddesdon, brought in new resources and fresh thinking, and helped develop a new and open approach to theological study. The incorporation of the Oxford Ministry Course (2006) and the West of England Ministerial Training Course (2011) has enabled the College to offer a wide range of additional non-residential courses, designed to suit students at different stages of life and with varying personal circumstances and academic abilities.  Our non-residential training is outstanding, and the programmes that are now part of the Cuddesdon community have been well established for over forty years.  Through out partnership with the Church Missionary Society, we are also able to offer training for Ordained Pioneer Ministers. In addition to the non-residential and residential training for ministry, the Cuddesdon School of Theology and Ministry (CSTM) offers courses for those exploring vocations, or simply wanting to learn more about theology for today's world.  The Cuddesdon Study Centre offers a range of specialist seminars, courses, research and consultancy (through our renowned Oxford Centre for Ecclesiology and Practical Theology ), as well as studentships and sabbaticals.
In 2012, five remaining Sisters from two Anglican religious orders – St John Baptist and The Good Shepherd – joined the College community. They provide a praying presence throughout the year and offer spiritual direction, Quiet Days and guided retreats.