The Beatitudes at the 10 am Benefice Service 2018
6th 

May at St Mary's Garsington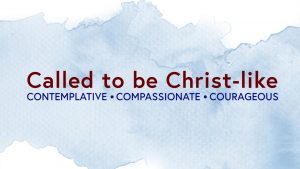 Blessed are those who hunger and thirst for righteousness
Canon Professor Mark Chapman, Vice Principal of Ripon College Cuddesdon
3rd June at All Saints' Cuddesdon
Blessed are the merciful
Rt. Rev'd Humphrey Southern, Principal of Ripon College Cuddesdon
1st July St Giles', Horspath
Blessed are the pure in heart
Rev'd Ernest Pettengell, Chaplain of Ripon College Cuddesdon
5th August at St Mary's Garsington
Blessed are the peacemakers
Rt Rev'd Colin Fletcher, Bishop of Dorchester
2nd September at All Saints' Cuddesdon
Blessed are those who are persecuted for righteousness sake
Rev'd Dr Emma Pennington, Vicar of Garsington, Cuddesdon and Horspath
7th October at St Mary's, Garsington
Blessed are you when people revile you
Venerable Olivia Graham, Archdeacon of Berkshire
Breakfast Time at St Mary's

Come and join us on the fourth Sunday for breakfast and discussion, starting at 9.30 a.m. with Coffee/Tea and Croissants followed by an informal discussion at 10 am.  The following topics are:
22nd April: 
Should we be given the right to lay down our own lives if we wish? (John 10:11-18)
27th May:
Are children born pure without inheriting original sin or not? (John 3:1-17)
24th June:
Is climate change a moral and ethical issue? (Mark 4:35-41)
Julian Meeting
The contemplative prayer meeting gathers every second Thursday of the month in the Edward King Chapel at Ripon College Cuddesdon. All are welcome to this time of reflection and silent prayer for 30 minutes.  For more information please go to www.thejulianmeetings.net.
St Mary's café every third Friday
On the third Friday of the month the back of St Mary's church in Garsington is transformed into a café with tables and chairs, newspapers, coffee and cake.  When the weather is good you can enjoy the view across to the Baldons and beyond with seating outside.  Everyone is welcome to drop by between 10 am and 12 noon to catch up with friends and meet new ones.
Cuddesdon Coffee Morning every second Tuesday
This very successful coffee morning held in the village hall in Cuddesdon every second Tuesday of the month.  With book shop, raffle, coffee and good company.
Forthcoming Services Across the Benefice
Services for Easter to All Saints 18