Walking the Rectory Labyrinth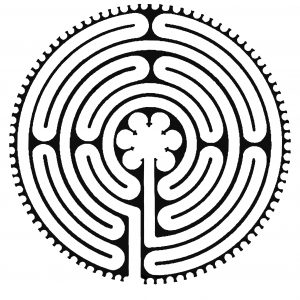 Jonathan has mowed a labyrinth into our lawn at the Rectory and we are offering a number of afternoons over the summer to enable you to walk it.  There are many ways to describe a labyrinth: a path of prayer, a walking meditation, a crucible of change, a watering hole for the spirit.  There is no right way or wrong way to walk a labyrinth.  Use it in any way that meets your need.  The dates and times are:
24th September 2-5 pm.
Please drop in at any time.  For more information please speak to Emma or pick up a leaflet.
Breakfast Time at St Mary's
Come and join us on the fourth Sunday for breakfast and discussion, starting at 9.30 a.m. with Coffee/Tea and Croissants followed by an informal discussion at 10 am.  The following topics are:
24th September: 
Who am I? (1 Thessalonians 1:1-10) 
22nd October: 
Should the church never ask for money? (Matthew 22:15-22)
Apple Festival
In October, when the apples are ripe in the Garsington Rectory orchard, we hold an Apple Festival and invite you to come along and pick our apples or bring your own to be pressed in the apple juice press.  There is also tea and an apple cake competition and apple bobbing.  This year the festival is on 1st October from 2 to 4 pm, all welcome.
Saints and Sinners:
An Introduction to the Four Latin Fathers of the Church
Thursdays during the Kingdom Season in the Chancel of All Saints', Cuddesdon at 8 pm with 45 minute talk followed by discussion and concluding with Compline by candlelight.
 2nd November           The Cuddesdon Reredos: the Significance of the Four Latin Fathers
with Canon Professor Mark Chapman, Vice Principal of Ripon College Cuddesdon
9th November            St Jerome
with Professor Mark Edwards, Tutor in Theology, Christ Church, Oxford
16th November          St Ambrose
with Rev'd Dr Jane Baun, Lecturer in Ethics and Church History, Ripon College Cuddesdon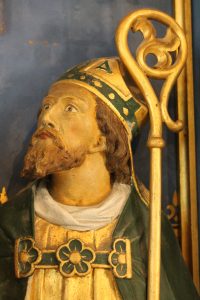 23rd November         St Gregory
with Bishop Humphrey Southern, Principal of Ripon College Cuddesdon
30th November         St Augustine
with Professor Carol Harrison, Lady Margaret Professor of Divinity, Christ Church, Oxford
For further information please contact Emma on 361 381 or via the Contact page
Julian Meeting
The contemplative prayer meeting gathers every second Thursday of the month in the Edward King Chapel at Ripon College Cuddesdon. All are welcome to this time of reflection and silent prayer for 30 minutes.  For more information please go to www.thejulianmeetings.net.
St Mary's café every third Friday
On the third Friday of the month the back of St Mary's church in Garsington is transformed into a café with tables and chairs, newspapers, coffee and cake.  When the weather is good you can enjoy the view across to the Baldons and beyond with seating outside.  Everyone is welcome to drop by between 10 am and 12 noon to catch up with friends and meet new ones.
Cuddesdon Coffee Morning every second Tuesday
This very successful coffee morning held in the village hall in Cuddesdon every second Tuesday of the month.  With book shop, raffle, coffee and good company.
Forthcoming Services Across the Benefice
Services for June to December 17