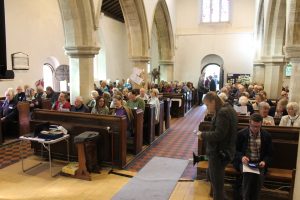 On Saturday 9th September the village of Cuddesdon along with its famous theological college were buzzing with the excitement of the 183 people who came for the day to focus on their inner life of prayer.  The Festival, now into its seventh year, offers the opportunity for those who come to enhance their spiritual life by attending three workshops on different aspects of prayer and the spiritual life.  The workshops this year encompassed topics such as Silence and Praying for Peace, the Path of Celtic Prayer, How to be a mindful Christian, Mysticism for Today, Thomas Merton, Rule of Life and much, much more.  Speakers included: Michelle Eyre from Discovering Prayer resources, the notable BRF author Sally Welch, Rev'd Andrew Bunch Vicar of St Giles in Oxford, Robert Wright, priest and artist, John Twisleton, Tony Dickinson, Ruth Layzell, David Cole, Rev'd Dr Emma Pennington Vicar of Cuddesdon and Spirituality Advisor to the Diocese and Rt Rev'd Steven Croft, Bishop of Oxford, who was our keynote speaker.
Bishop Steven opened the day in All Saints' church with a stimulating and profound talk on the Lord's Prayer.  At one point he described how the Lord's Prayer was the gift of the church that was only passed onto those being baptism after a long period of preparation.  Before that point it was kept as a secret, so precious was the prayer and so formational.  Through his words and insights, it felt as if Bishop Steven was giving the Lord's Prayer back to us as a gift to c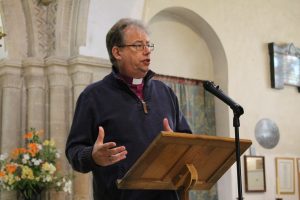 herish and own once again for ourselves with a new and deeper reverence for it.  Notes from his talk can be found in the document below and these along with his blog give a good outline of what he said.
In addition to the workshops there was also the opportunity this year to receive some spiritual direction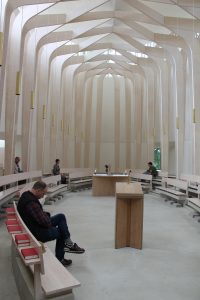 from one of the members of the SpiDir Network who were on hand to listen and guide those in need.  It was very good to have SpiDir with us this year and their input was greatly valued by those who took up this option during the day.  There was also space for walking the labyrinth which had been mown into the college lawn or to take one of the village prayer walks.  The weather held and despite a couple of showers the sun even managed to shine for us.  It was a very special and prayerful day.  Thanks go to the organisers of the event: Karen Laister and her team from BRF, Andrew Meynell, Emma Pennington, Ernest Pettengell, Jane Reid from Ripon College Cuddesdon and all who attended the day.  Thanks also go the Bishop Humphrey Southern for the extensive use of the college and to Cuddesdon PCC for the use All Saints'.
Next year the Festival of Prayer takes place on Saturday 7th July 2018 when the main keynote speaker will be John Bell from the Iona Community.