"When the spirits are low, when the day appears dark, when work becomes monotonous, when hope hardly seems worth having, just mount a bicycle and go out for a spin down the road, without thought on anything but the ride you are taking." (Sir Arthur Conan Doyle)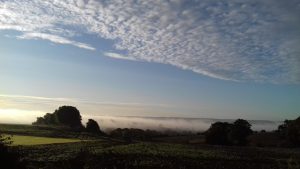 On Saturday night we watch the weather forecast with trepidation. It has been a week of showers and high winds and the prediction was for rain to come in from the west on Sunday so that, by lunchtime, Hereford and Worcester would be drenched. Thus, I decide to start early on the Sunday and beat the weather. My reward is a most beautiful day with autumn cloud in the Cuddesdon and Denton Valley with the Chilterns rising above in the distance. A stillness and hush permeate the air. Even the buzzards fly silently over the fields.
From St. Giles' Church I cycle through a sleepy Oxford city and through the Botley Road to head for Farmoor, Eynsham, South Leigh and Witney, which is just waking up. I love the cycle past Minster Lovell and into the Cotswold villages of Asthall and along the Windrush through Widford and into Burford. As it is still before ten o'clock I decide to delay my coffee break for a while. I push on to Stow-on-the-Wold for coffee, provisions and a rest. So far the weather is holding, with only a little drizzle for company.
The next stage is the beautiful road (A4077) to Tewksbury, through the pretty villages of Ford and Toddington. This stretch is a journey of nostalgia and time travel. With the exception of the odd modern car, I could be cycling through a landscape that has remained unchanged in a hundred years. Stone, butter-coloured cottages with streams, bridges, sheep and sweet honeysuckle and roses around the doors. The hedgerows and fields were verdant and glisten with drops of fresh rain or dew. Apples hang laden on the trees. The spirit of by-gone days is exaggerated at Toddington where there is a vintage car rally and a steam train waits at the 1940s-style station. Whilst worshippers intone Thomas Cranmer's words of the Book of Common Prayer in the medieval churches, so many others rejoice in a celebration of England's heritage, by walking through its' landscape or recreating the look and feel of a world before motorways and diesel engines. These are our Sunday pastimes. Others choose to cycle, a leisure and pleasure that has been enjoyed from Victorians, like Conan Doyle, to modern-day, middle-aged obsessives in brightly-coloured and sponsored-logoed lycra. But whether in tweed and deerstalker, or Tour-de-France yellow, the outcome is the same, as Sir Arthur perceived: a focus and freedom in the ride and an invigoration that dispels other concerns and enables an endorphin-filled chemical change in ones' mood and senses, from dullness and introversion to vibrancy of spirit and alertness to the wonders of nature all around.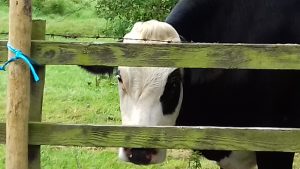 I reach Tewkesbury by lunchtime and find that the congregation of the Abbey are just leaving the church. Among them, I am astonished to see, is a friend and colleague of mine from Oxford, a Fellow of St. Peter's College. I stop my bicycle to say hello and he is equally amazed to see me in such a context and wearing such an outfit! I explain my quest and he explains that he is visiting a friend of his who has just retired to Tewksbury, having been organist and Choirmaster at Durham Cathedral. We all agree to meet in Oxford at a later date and I cycle on.
In Upton-upon-Severn I have lunch by the river where there is a rowing regatta taking place. As I watch the fishermen, boats and revellers, a large group of ducks take an inordinate amount on interest in my sandwich and I am forced to move. I find a field, from which I can now see the Malvern Hills, I rest my back against a giant oak and sit, eat and drink in peace. But it is chilly and I quickly have to be in motion once more. At the Malvern Three Counties Show Ground there is another display of motoring nostalgia with "Busfest", a celebration of customised four-wheeled buses, camper-vans and other vintage vehicles. The roads are jammed as they leave for the day.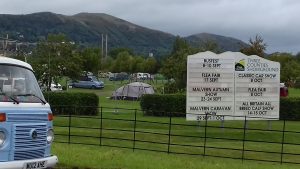 As I am early, I make my way to Great Malvern Priory and to one of my favourite coffee shops, "Mac and Jacs", where I have the perfect Flat White and look out of the ancient gateway to the Priory grounds. As I sit there, finally the rain arrives and so I must now face the wet as I take the final ride under the hills to Little Malvern and the Priory Church of St Giles. I arrive just before Emma, Katie and Thomas.
It has been a wonderful cycle ride and Conan Doyle was right. Even though my spirits and my hope were not low at the start of the journey, even so they have been lifted further by such a day and a ride into the west.
As John F. Kennedy once said: "Nothing compares to the simple pleasure of a bike ride."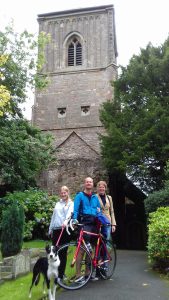 Bike Ride Statistics:
Time: 6 hours 58 minutes and 45 seconds riding time
Distance: 128 km
Ave Speed: 18.3 km/h
Sponsored ride for St. Giles' Church Horspath.
Jonathan Arnold
For more pictures see the gallery.