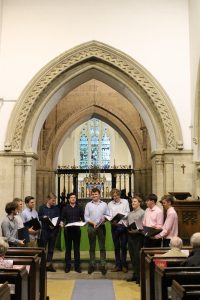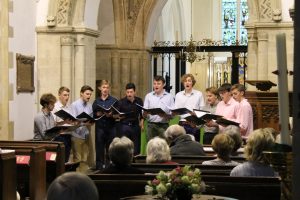 A wonderful evening was had by all on last Thursday 29th June when the Academical Clerks of Magdalen College, Oxford came to sing at All Saints' in Cuddesdon.  The group of 10 young men make up the back rows of the Chapel Choir at Magdalen College but combine outside of the choir to form the Men of Magdalen group.  They performed a varied programme of unaccompanied music which included, in the first half, a number of classic choral pieces such as Schubert's Hymne an den Heilgen Geist, Byrd Ave verum and Poulenc Seigneur, je vous en prie.  They ended the first half with two lovely madrigals by Bennet and Dowland.  After an interval where all enjoyed Pimms and beer, kindly donated by the Shotover brewery, the tone changed and we were entertained with a selection of arrangements of modern songs such as Cyndi Lauper's Time after Time Chad Fisher Superman aswell as classic harmony pieces from Cole Porter.  The concert ended with a wonderful setting of Everytime you say goodbye.
The money raised from the concert went to the bells fund to restore the bells and came to around £700.  An enormous thank you goes to the Men of Magdalen for a super evening of music, to Robert and Richard for being chauffeurs, Waveney, Jena and Keith on the drinks, to Emma for organising the event and Freddie from the choir for offering to come into the sticks to sing.
We hope they will come back and sing at Christmas time and were very keen to do so.  Watch this space for details.