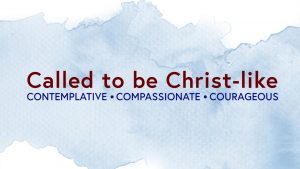 One of the benefits of belonging to a benefice is that together we make a sizable congregation of fellowship and support.  Next year there will be a special Sermon Series running at each of the Benefice services on the first Sunday of the month that will focus on the Beatitudes.  This is as a direct result of Bishop Steven Croft's invitation to enter into process of discern a Shared Vision for the diocese.  Bishop Steven writes:
Our world faces many challenges and as such, the world and our nation need us to be the best Church we can be in such a time as this.
During my deanery visits I have found an appetite for a fresh vision and strategy across the diocese and a desire to work together to create that vision in the coming months. As our communities change we must decide where our new priorities lie.
I've met over 2000 people who have shared their thoughts with me, and I have spoken of my hope that we can become a more Christ-like Church. This has resonated very deeply with people.  The Beatitudes in Matthew's gospel speak to us very clearly about what it means to be a Christ-like Church: we are called to be contemplative, compassionate and courageous in all we attempt together.
Each of our preachers are from across the diocese and will be taking one of the Beatitudes as the basis for their sermon.  We in turn will be invited to reflect on their words and our reaction to how we can be more Christ-like through various different forums during 2018.
The Beatitudes at the 10 am Benefice Service 2018
7th January at St Mary's, Garsington
Blessed are the poor in spirit
Rev'd Dr Jonathan Arnold, Dean of Divinity at Magdalen College, Oxford
4th February at All Saints', Cuddesdon
Blessed are those who mourn
Canon Andrew Meynell
4th March at St Giles', Horspath
Blessed are the meek
Canon Edmund Newey, Sub Dean of Christ Church
6th May at St Mary's Garsington
Blessed are those who hunger and thirst for righteousness
Canon Professor Mark Chapman, Vice Principal of Ripon College Cuddesdon
3rd June at All Saints' Cuddesdon
Blessed are the merciful
Rt. Rev'd Humphrey Southern, Principal of Ripon College Cuddesdon
1st July St Giles', Horspath
Blessed are the pure in heart
Rev'd Ernest Pettengell, Chaplain of Ripon College Cuddesdon
5th August at St Mary's Garsington
Blessed are the peacemakers
Rt Rev'd Colin Fletcher, Bishop of Dorchester
2nd September at All Saints' Cuddesdon
Blessed are those who are persecuted for righteousness sake
Rev'd Dr Emma Pennington, Vicar of Garsington, Cuddesdon and Horspath
7th October at St Mary's, Garsington
Blessed are you when people revile you
Venerable Olivia Graham, Archdeacon of Berkshire