The sun may not have shone like last year but with the weather forecast having predicted a downpour we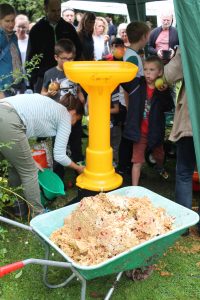 were lucky to escape with just a brief shower for our Apple Festival this year.  It was the second time the event had been held and again was very popular.  Barry brought his apple press and folk from Garsington and beyond brought their apples to be pressed into juice.  There were plenty of our own apples in the orchard for those who did not bring their own to pick and have juiced.  The press was a real draw to the children.  It begins by throwing as many apples down the yellow shoot into the chopper.  The very sharp blade chops up the apples, stems, bugs and all, into a pulp.  This is then compacted and pressed to make the juice.  We were all warned that the juice was very strong and would only last 48 hours before fermentation started.
In addition to the apple press, there was also a book stall, gift stall, plant stall and raffle.  We had eight entries to the apple cake competition which was judged by the President of the WI, Judy Eden.  This year the winner was Tim Middleton, who has just moved into Cuddesdon where his wife Clare is training at the college to be ordained.  There were lots of different cakes to enjoy with tea and an added bonus for this year.  In the spring Jonathan had mowed a labyrinth into the lawn at the Rectory.  There have been a number of days when it has been open to walk but at the apple festival it was the young people who discovered the joy of running round it and finding themselves at the centre where there were stones to discover in the bird bath, truly magical.
Thanks go to Barry and Sarah and to everyone who helped set up, man stalls, serve teas and contribute plants, books and cakes as well as raffle prizes.  The event raised £722.90 for the church.
For more pictures please see the gallery.