The group meets next on Tuesday 28th November at 7.30 pm at Robin and Eileen's house on the Wheatley Road in Garsington, when we will be discussing:
by the Ven. Olivia Graham
The thing about a pilgrimage is that even when the journey's end is fixed, you never know where it is going to take you. Knowing Anna, a first novel by our very own Sarah Meyrick, is a book about grief, loss and discovery, packaged in a delightful and readable format. Anna dies of cancer, aged 42, as the book starts, and we are drawn into the worlds of those who are left to reconstruct their lives without her – husband, children, parents and friends.
Anna leaves behind the suggestion that in her memory, they walk the Pilgrim's Way to Canterbury – an ancient pilgrim route which the author herself is clearly familiar with. As we go with them, the author skilfully lays bare the inner landscape of this group of very normal, ordinary people, each one dealing in their own way with this life-changing event.
There's 15 year old Beth, Anna's daughter, negotiating her grief, her crush on a boy, her longing for it all to be different and her sense of responsibility for her Dad and little brother as she is stalked by the encroaching eating disorder which enables her to keep it all together; Tamsin, Anna's best friend and confidante, who has helped Anna to set the pilgrimage up, and who has held a difficult secret for years; Anna's parents, who work to conceal their sadness and the toll of their years as they try to support Anna's family.
And there's Fr Stephen, their parish priest and spiritual guide, who manages to be rather good at normalising God for this eclectic bunch of pilgrims and creating a safe container for the ragged spikes of emotion which puncture their days.
Sarah Meyrick manages to avoid the trap of easy answers and saccharined clichés as she handles this challenging theme, and she allows her characters to emerge as very believable people going through the early stages of grief. And in spite of the clear tragedy of Anna's untimely death, it is a novel which is founded on the clear faith of the author, and points towards hope and the possibility of new life, both in this world and the next. I found this novel clever, honest, perceptive, and a jolly good read! I hope it will be the first of many from Sarah's talented pen.
The Ven. Olivia Graham is the Archdeacon of Berkshire. Sarah Meyrick is the Director of Communications for the Diocese of Oxford.
If you want to get ahead the next book after Knowing Anna will be Shusaku Endo's Silence.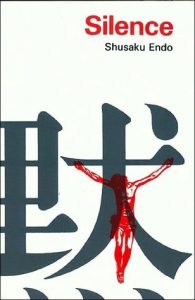 With an introduction by Martin Scorsese
Father Rodrigues is an idealistic Portuguese Jesuit priest who, in the 1640s, sets sail for Japan on a determined mission to help the brutally oppressed Japanese Christians and to discover the truth behind unthinkable rumours that his famous teacher Ferreira has renounced his faith. Once faced with the realities of religious persecution Rodrigues himself is forced to make an impossible choice: whether to abandon his flock or his God.
Winner of the 1966 Tanizaki Prize, Silence is Shusaku Endo's most highly acclaimed novel and a classic of its genre. It caused major controversy in Japan following its publication in 1967.
Books which we have read in the Book Group since 2015:
What's so amazing about Grace?                           Philip Yantel
The Shack                                                             W M Paul Young
Finding Happiness                                                 Abbot Christopher Jamison
The Screwtape Letters                                           C S Lewis
A Little History of the English Country Church       Roy Strong
Falling Upwards                                                    Richard Rohr
The Abbess of Whitby                                           Jill Dalladay
A Book of Silence                                                 Sara Maitland
Through the Narrow Gate                                      Karen Armstrong
Knowing Anna                                                       Sarah Meyrick