Dear Friends and Family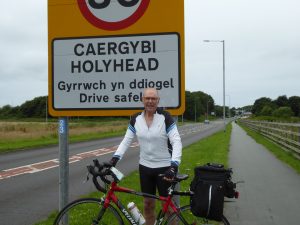 Well, I did finally make it to Holyhead –  honestly I didn't catch the train.  By then Chepstow seemed a long time ago!  The last morning was eventful – two punctures and the first rain that I had!  I was very lucky with the weather, which meant the views and scenery were brilliant to see and photograph.  It was a wonderful route – a lot of it relatively unknown to me –  with a huge variety of scenery.   It was really enjoyable to cycle, and discover new places around each corner.  I feel very lucky at this stage of life to have been able to do it.
Your very generous support and good wishes certainly spurred me on, particularly in the mountainous areas.  However, a couple of friends did question my mental state – 'mad lad' indeed, – though I don't mind the second word in that description.
Highlights of the journey in the south were the Usk valley and Black Mountains (500m) a hard start.  In mid Wales following the Wye almost to LLanidloes, 
and the mountain route between Llanidloes and Machynlleth, up to 500m.  I certainly did a lot of walking in this section. But the views more than made up for it, as well as a 6 mile descent getting up to 39mph.
   In the North the Barmouth Estuary and Criccieth stood out.
THANK YOU ALL for your very generous support.  I'm so grateful to everyone and at present £2012 has been raised.  I can assure you that the women and men at
Oxford Homeless Pathways
need all the help that they can get.
If anyone would still like to contribute the LINK IS OPEN UNTIL
FRIDAY JULY 21st
David Rule