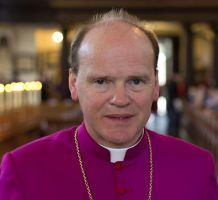 A very warm welcome to Bishop Humphrey Southern and his wife Emma who move into Cuddesdon this month in order for Humphrey to take up his new appointment as Principal of Ripon College Cuddesdon.  We hope he soon settles into the village and finds a home amongst us at All Saints'.  The Right Reverend Humphrey Southern, suffragan Bishop of Repton in the Diocese of Derby, has been appointed Principal of Ripon College Cuddesdon and will take up the post on 1 April 2015.
Bishop Humphrey was born in London and brought up in Wiltshire. He was a student at ChristChurch, Oxford, and trained for ordination at Ripon College Cuddesdon in the 1980s. He was a curate in Kent and Liverpool, and served as a parish priest in the dioceses of Guildford and Salisbury. In Guildford he served as Diocesan Ecumenical Officer and Tutor for training of curates, a role he continued in Salisbury, where he was also a Rural Dean and Chair of the Diocesan House of Clergy.
In 2007 Humphrey became Bishop of Repton and has developed a particular interest in ministry and ministerial development, both of ordinands and curates, and of longer established clergy and readers. He serves as Chair of the Diocesan Board of Education and has taken a leading role in developing the diocese's response to new opportunities and challenges in the world of schools. In addition to his involvement in the 110 Church Primary Schools in the diocese, he has had a particular ministry of engagement with Sixth Formers across Derbyshire on issues of faith and faithfulness.
Bishop Humphrey has a strong interest in the wider Anglican Communion. He has served in Anglican Churches in South Sudan and Zimbabwe, and has studied Anglican mission in Australia and the United States. He chairs the Ecumenical Partnership of Churches in Derbyshire with the Church of North India and has recently been developing personal links with the Church of Pakistan. He has led pilgrimages to the Holy Land and is passionate about the plight of Palestinian Christians.
Bishop Humphrey says, "I am both honoured and humbled to be invited to be Principal of Ripon College Cuddesdon at such a pivotal moment in the history of the College and the Church.
This is a time of great opportunity for the Church of England as we are challenged to grow in faithfulness, service and witness to our nation and communities, in numbers and confidence, and above all in the life of prayer and worship.
Ripon College Cuddesdon has grown and developed so that it is uniquely well placed by the grace of God to rise to this challenge and to serve this vision for the Church. I look forward to being part of this and to the exciting times that are to come."
The Right Reverend Christopher Foster, Bishop of Portsmouth and incoming Chair of the Board of Governors, says, "We are delighted that Bishop Humphrey has accepted our invitation to lead Ripon College Cuddesdon as it continues to serve the mission of the Gospel by training and forming ordained and lay ministers for the Church of England. His vision and experience will enhance the breadth and diversity of what the College offers as we respond to the need for confident and committed disciples, sensitive to God's leading"
Humphrey is married to Emma and they have two daughters at secondary school. The family also currently includes two ex-racing greyhounds, a horse and two goldfish.