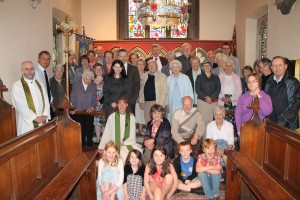 Coronavirus (COVID-19) Update
Following recent government advice released on Monday 23rd March 2020, our church buildings are now closed for all forms of public worship, private prayer, baptisms, marriages and funerals until further notice.
We would be happy to receive your prayer requests and to pray for you and those you love.
Please contact us if you would like to receive our weekly e-newsletter, telephone calls or prayer resources.
Our ministry team will continue to celebrate the Eucharist on Wednesdays at 11am and Sundays at 9.30am, for and on behalf of everyone in the Benefice. If you would like to join these services via Zoom, please email us to request an invitation. When possible, these services or the sermon will be recorded and uploaded to our website soon after.
Recently Recorded Services
19th April 2020 – The Second Sunday of Easter
Listen to Revd Dr Sarah Brush's sermon here.
Daily Prayer and Worship
Archbishop Justin has encouraged all Christians to pray the Lord's Prayer at 11am each morning; and Bishop Steven has encouraged us to also pray the 23rd Psalm at this time.  Please do pause to pray at 11am every day, whenever possible.  You may wish to use this poster from Bishop Steven: 23rd Psalm or this: Psalm 23 & The Lords Prayer
Revd Karen would also encourage you to pray at 9am, 5:45pm and 9:30pm whenever possible.  You might wish to use this link, directing you to the Cuddesdon Live-streamed Prayer Facebook page, to join in a community of prayer or use the resources for Morning Prayer, Prayer During the Day and Night Prayer on our Prayer Resources page.
Safeguarding
All three churches have safeguarding policies and officers. Information about safeguarding can be found here.